Hundreds of bronze objects have been discovered buried in pottery in the Auvergne-Rhône-Alpes region of France.
The research team, led by Pierre-Yves Milcent of the University of Toulouse Jean Jaurès, is conducting archaeological research and excavations near the Sioule gorges, south of the Allier department.
Near Gannat, these studies recently led to the discovery of a large fortified settlement from the end of the Bronze Age (around 800 BC). Fortified settlements were numerous in the Late Bronze Age, but rarely this large (about thirty hectares). The site is currently France's Bronze Age habitat, which delivered the largest number of metal objects.
Women's or children's jewelry, such as bracelets, anklets, and pendants, were discovered in the bottom of two vessels discovered in 2020. Then there was a layer of tools and weapons in one, and chariot ornamentation, riding accouterments, and wheel pieces in the other. Bronze axes were then placed to the tops of each vessel.
The team revealed two new, pristine metal deposits in August 2021. One was placed in a pot covered with a vessel. The other consists of a series of ax blades carefully placed in a pit.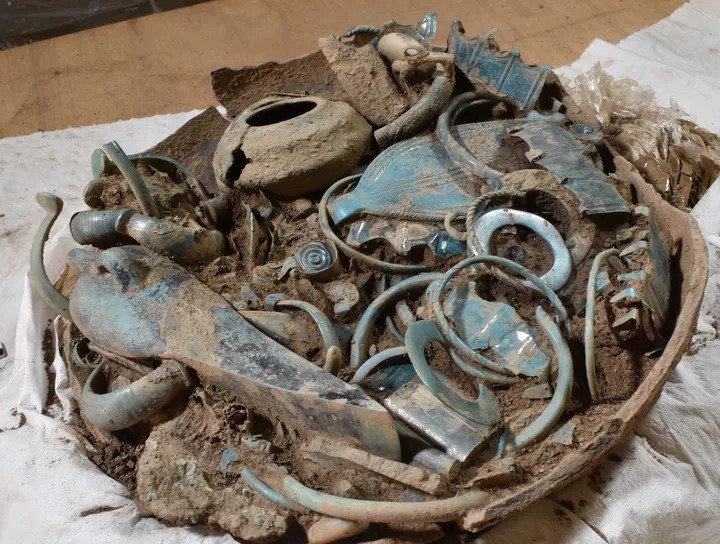 "They could be offerings as found in Greece at that time, deposited during the foundation or abandonment of the settlement, to help ensure divine protection", said Dr. Pierre-Yves Milcent.
"This discovery, with intact artifacts, is exceptional because it allows us to better understand how and why they were buried", he added.
With the new discovery, the team will be able to confirm the initial hypotheses raised during the excavation of the excavated sites in 2020. The hypothesis is that the finds are voluntary divine offerings.
The Bronze Age is an unknown period of European Protohistory, which, as stated in the press release, took place between 2200 and 800 BC. Therefore, the evaluation and analysis of the finds are of great importance.
Excavations and studies carried out in the Gannat region and within the framework of the Collective Research Project dedicated to the south of Allier during Protohistory and Antiquity, are organized by the University of Toulouse Jean Jaurès. It was conducted by Jaurès and the TRACES-UMR 5608 Laboratory and was conducted with the support of the Auvergne-Rhône-Alpes Archaeological Regional Service, the Allier Department Preventive Archeology Service (SAPDA), and the Anne-de-Museum of Arts and Archeology.
University of Toulouse-Jean Jaurès
Over Photo: (F. BORD)