Near the town of Jelling in Denmark, one of the biggest treasures ever found dating from the sixth century has been found.
One of the largest, richest, and most beautiful gold treasures in Danish history was found at Vindelev, just outside Jelling.
Ole Ginnerup Schytz had just purchased a metal detector and was wandering the fields when he stumbled upon the gold, according to the Vejle Museum, where the hoard will be displayed.
The treasure, which weighs just under a kilogram, includes a medallion the size of a saucer and approximately 22 gold objects.
The discovery of an enormous amount of gold indicates that the site was a powerhouse in the Late Iron Age. The discovery was made around six months ago, but it was kept a secret until now.
"Although the place-name Vindelev can be associated with the time of migration, there was nothing to suggest that an unprecedented warlord or great man lived here long before the Danish kingdom emerged in the following centuries," said Mads Ravn, research director for Vejlemuseernes.
Mads Ravn said in his statement at the Vejle Museum: "In the early 500's this man chose to close the treasury. Maybe to save him in case of war, maybe as a victim of higher powers."
The Vindelev treasure consists of saucer-sized medallions and Roman coins turned into jewelry. Most important, a heavy gold coin from the Roman emperor Constantine the Great (285-337 AD). Some of the objects have runic patterns and inscriptions that may allude to the kings of the time, but also to Norse mythology.
One of the finds is a bracteate with a series of runes and a braided male head. He is seen in front of a horse under the head and a bird communicating with the man. Between the muzzle and forelimbs of the horse is a runic inscription, which reads 'houaʀ' according to early interpretations; 'Supreme'.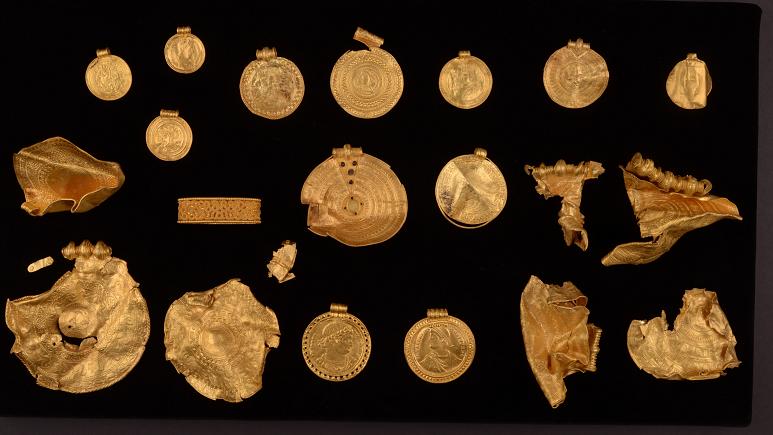 'Supreme' may refer to the ruler who abolishes the find, but is associated with the god Odin in later mythological contexts.
According to preliminary studies, the wealth might have been placed as a sacrifice to the gods during a tumultuous time when the climate in northern Europe was turned upside down following an ash-filled volcanic explosion in Iceland in the year 536.
Some believe that the foundation of Viking Age society and a unified Danish kingdom lay in this period.
More than 40 kg of gold from these centuries was found during the Iron Age. But the size, quantity, and technical details of the objects in the treasure now found in Vindelev are completely unique.
The treasure will be on display at the museum in Vejle from February 2022.
Source: Vejle Museerne