A 4,600-year-old intact wooden boat bearing the name of an Egyptian pharaoh, Khufu, was transported to a new museum about 7 kilometers away from Cairo's Great Pyramid.
The boat was housed in a museum on the Giza Plateau, on the southern side of the Great Pyramid of Khufu.
The boat, 42 meters long and weighing 20 tons, was carried from the Great Pyramid to the Grand Egyptian Museum in an "aluminum cage-raised on a clever remote-control truck," according to the antiquities ministry.
For the boat's transit, streets and bridges overlooking the GEM, as well as archaeological and engineering equipment, were prepared.
To move the boat without disassembling it, a smart remote-controlled cart was specifically brought in from Belgium. The 8km journey from the boat's position to the GEM took around 10 hours.
"The boat was exhibited inside a museum bearing its name at Giza Plateau, which was not equipped with the latest technological equipment to house and display this magnificent artifact," the ministry statement read.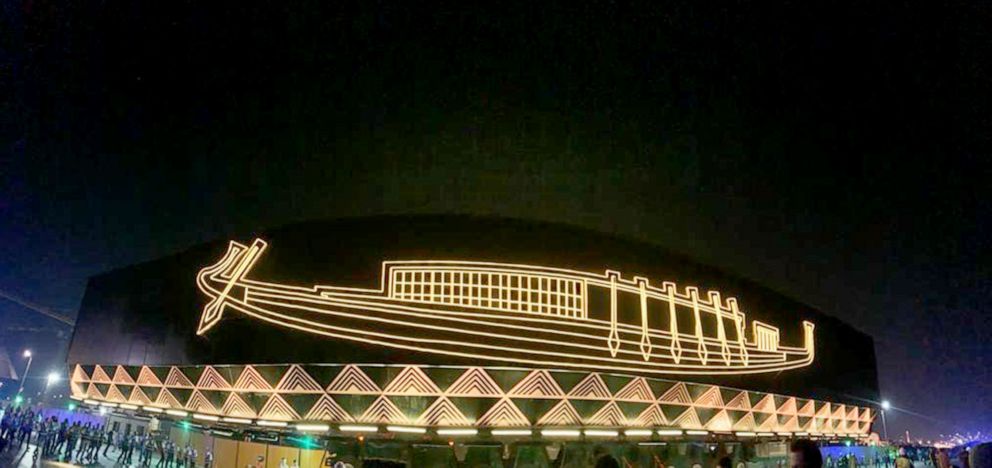 "The aim of the transportation project is to protect and preserve the biggest and oldest organic artifact made of wood in the history of humanity for the future generations."
The museum that housed the boat lacked the necessary resources to maintain the wooden relic, and the organic structure began to rot. The boat's transfer to a new location was imperative.
The boat was discovered in 1954 at the southern corner of the Great Pyramid, which was built as a tomb for Khufu and is the only surviving wonder of the Seven Wonders of the Ancient World.
GEM chief supervisor Atef Moftah described the boat transfer as "one of the most important, complicated, and unique archaeological engineering undertakings," emphasizing that the task force left nothing to chance.
"It is the result of effort, study, planning, preparation, and serious work that spanned nearly a year," he added, noting that the process was undertaken with great accuracy.
The low-key occasion contrasted sharply with Egypt's spectacular ceremony in April to transfer 22 mummies from the 120-year-old Egyptian Museum in Cairo's prominent Tahrir Square to the newly opened National Museum of Egyptian Civilization in Fustat, a historic Islamic city.
The parade on Saturday, however, was nonetheless impressive, with the enormous black truck painted with a depiction of the ancient boat and lighted with neon hues as it traveled through an old region containing many of Egypt's pharaonic artifacts.
Cover Photo: Egypt's Antiquities Ministry