A couple in North Yorkshire found an early 18th-century gold coin hoard buried under the floorboards of their kitchen.
The treasure had been hidden beneath an 18th-century townhouse in Ellerby, North Yorkshire, for generations. Then, ten years later, the homeowners redid their kitchen floor and discovered what they thought was an electrical cable beneath the concrete.
Instead, it was the hidden hoard, which was tightly sealed inside a soda-can-sized salt-glazed earthenware cup that was buried beneath the house.
It is one of the largest hoards of English 18th-century coins ever discovered, containing over 260 gold coins dating from 1610 to 1727.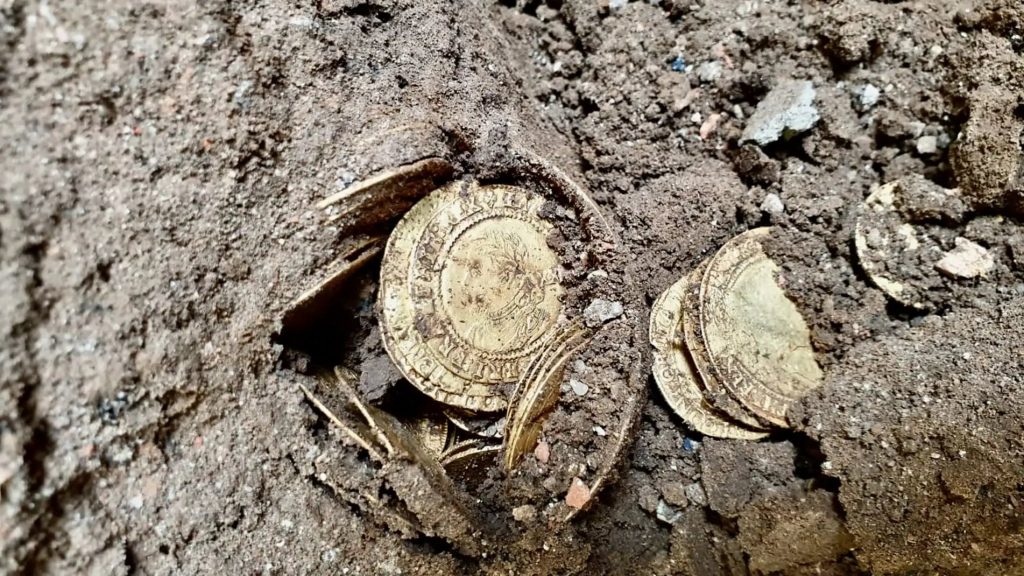 The couple contacted Spink & Son, a London auction house, and their experts authenticated the coin hoard. They also looked into the house's history and found the likely hoarders: wealthy Hull merchant Joseph Fernley and his wife Sarah Maister. Joseph died in 1725, Sarah in 1745, so it seems Sarah buried the hoard after her husband's death. When she chose the floorboards over a safety deposit box, secure banks and paper money were available — the Bank of England was founded in 1694, the year Joseph and Sarah married — but clearly they distrusted financial institutions in favor of collecting and caching gold currency.
There may have been some justification for the Fernley-Maisters' skepticism. The Bank of England was founded to raise a £1.2 million loan for King William III's administration so that they could develop Britain into a global naval power capable of competing with the undeniably superior French fleet. The French navy had soundly defeated England at the Battle of Beachy Head in 1690, seizing control of the English Channel and sending Britain into a state of panic. This probably looked like shenanigans to a family who built their fortune by trading in Baltic imports.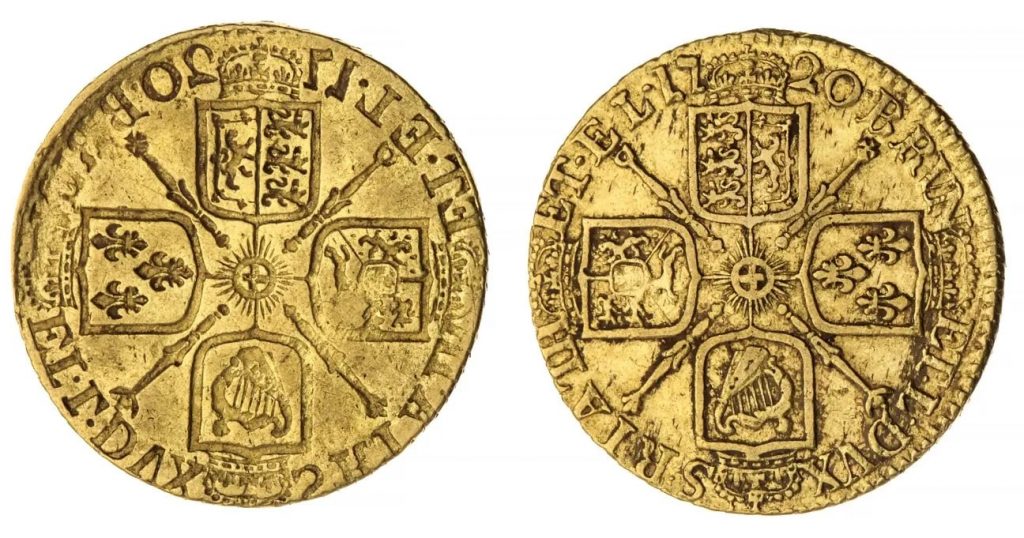 The coins, which range in date from 1610 to 1727, clearly display heavy wear from daily use. The hoard does not qualify as a "treasure" under British law because the youngest coin was less than 300 years old, allowing the couple to keep it. The original value of the coins, which span from King James I to King George I, was between £50 and £100.
The most valuable today is a 1720 George I guinea that, due to a minting error, lacks the king's head and instead has two "tails" sides. It has the potential to earn up to £4,000 ($4,600). Meanwhile, a 1675 Charles II guinea misspelling his Latin name as "CRAOLVS" instead of "CAROLVS" has a presale estimate of £1,500 ($1,725).
The coins are worth £100,000 on their face value alone, but when their individual market values are added together, that figure more than doubles to £250,000 ($290,000).
The unique hoard will be auctioned off at Spink & Son on October 7th, so we'll soon have the chance to find out how much it will fetch.