An ivory-decorated piece, estimated to be approximately 2,800 years old, was found during the archaeological excavation in the Hattusa Ancient City in Çorum, the heart of Turkey.
The Hittite capital's ruins date back to the Bronze Age, around 2000 BC. In 1986, the site was inscribed on the UNESCO World Heritage list.
Hattusha, which was also included in UNESCO's "Memory of the World List" in 2001, as it contains cuneiform tablet archives representing the oldest known Indo-European language, has the title of the only ancient city in both lists of UNESCO.
Excavations that started 116 years ago in the ancient city of Hattusa are still ongoing. Excavations have been carried out on behalf of the German Archaeological Institute since 2006, under the direction of Professor Andreas Schachner.
In the 117th year of the excavations, a work revealing information about the artistic structure of the Iron Age was unearthed on the northwest slope of the Great Fortress area of the ancient city.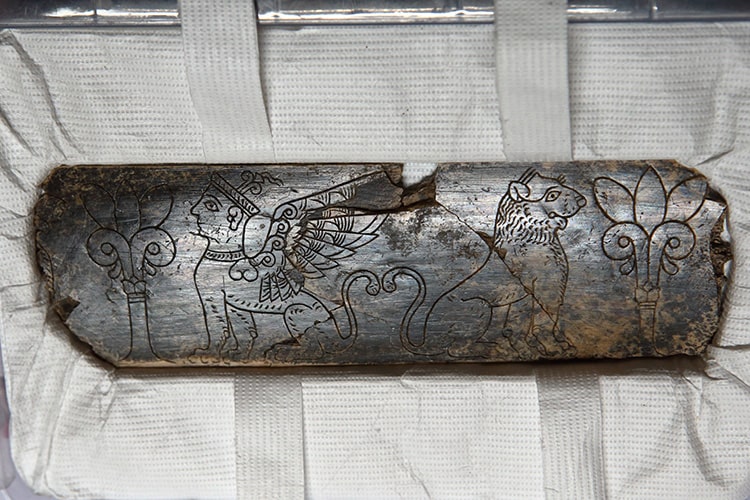 The ivory piece, which is approximately 30 centimeters long and 10 centimeters wide, features a sphinx (a statue with a human head and an animal body), a lion, and two Tree of Life figures drawn on a shiny background.
Scientific studies are ongoing regarding the piece on which the figures can be seen under suitable light conditions due to the layer on it.
Excavation Director Prof. Dr. Andreas Schachner told AA correspondent that the artifact was found in the Iron Age layer at the Hattusa Archaeological Site, which bears traces of many civilizations.
Schachner, stating that the well-preserved piece is approximately 2,800 years old, said, 'In its period, it was most likely added as a decoration to a wooden box or furniture made of wood. The artifact is broken on the right and left sides, and the upper and lower sides are in their original state. Therefore, we guess that the piece is longer."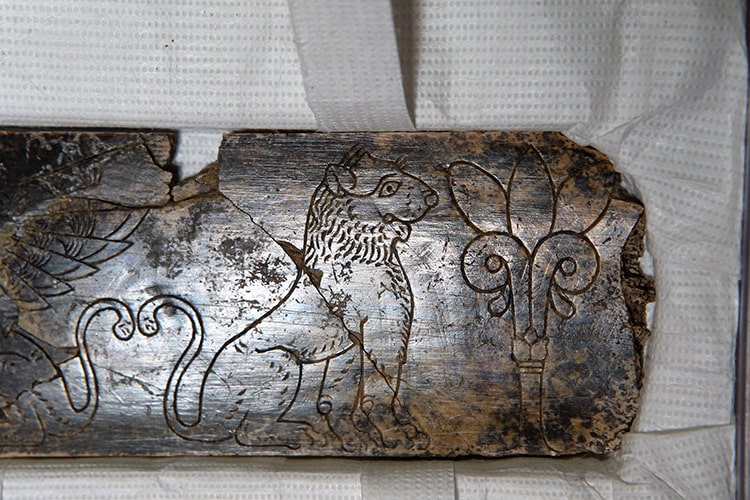 Schachner, the significance of the piece, explained:
"This artifact is a unique work for Boğazköy. For the first time, we are confronted with a piece adorned with a scene so intricately and beautifully crafted. Extensive excavations have been conducted in Boğazköy for the Iron Age, but we have not come across such a detailed work.
In terms of both the stage and the iconography and style used, we can better reveal the relations of Boğazköy towards Southeastern Anatolia and its artistic relations towards the Southwest and Greece in its period, that is, in the first millennium BC. "
Schachner added that the work will be exhibited at Boğazköy Museum after completing the scientific studies.
Cover Photo: Kemal Ceylan/AA