A mural of an Aztec rabbit God of alcohol is not something anyone expects to see inside a church, but that is exactly what workers in Mexico discovered. A team of restorers hired to repair the building's main structure was astounded aback when they noticed pre-Hispanic iconography in a Catholic Church in Tepotzlán, Mexico.
According to a news release from Mexico's Ministry of Culture and National Institute of Anthropology and History on October 3, the former Convent of the Nativity in Tepoztlán was constructed in the 16th century as a component of the first Catholic monastery built in the region. After a 2017 earthquake, renovation work on the old convent started.
Underneath layers of paint on the walls of three open-air chapels, archaeologists noticed part of a red circle, archaeologists said. They expected the coloring to reveal a painting, the Virgin Mary, or Jesus Christ. But they were wrong.
The mural is made up of a red circle about one meter in diameter. There are renderings of several pre-Columbian images within the circle, including an axe, a chimalli or shield, a sprig of flowers, and a feathered headdress or "penacho," which was traditionally worn by an Aztec aristocrat.
Due to the fragile nature of the feathers and other organic materials, very few penachos have been discovered, and there are very few wall-based images of them. The Welt Museum, an ethnographic museum in Vienna, Austria, currently holds the most well-known example of the actual headdress, the Moctezuma headdress. In 2021, the museum turned down a request to loan the item to an exhibition in Mexico.
The faded red paint formed a well-preserved red circle, about 4 inches thick, experts said.
The circle measured 11 centimeters (4,33 in.) thick and just over a meter (39,37 in.) in diameter. These dimensions match those of a 16th century Marian shield that was also painted in the Posa chapels.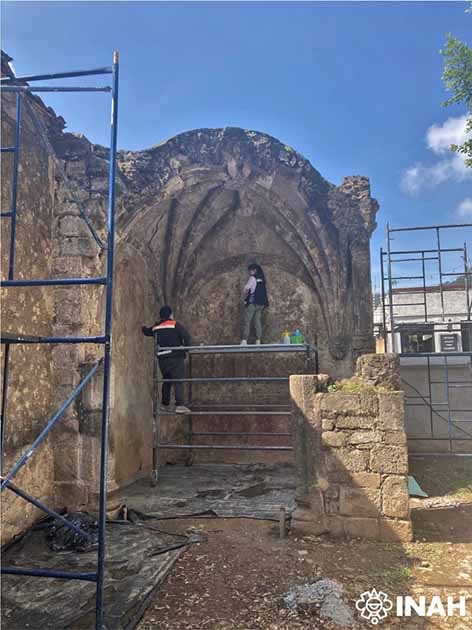 The archaeologists said the painted chimalli "connects the current population of Tepoztlán with their ancestry." Furthermore, their report claimed that the painting was evidence of "transformations of Tepoztecan society.
Tepoztlán is in the Mexican state of Morelos, south of Mexico City, and is part of El Tepozteco National Park. Quetzalcoatl, the Aztec divine feathered serpent, is said to have been born here. This site was once dominated by the Aztec Tepozteco pyramid, which was built on a dramatic cliff top above the town.
The former monastery, the Tepoztlán Ex-Convento de la Natividad (Convent of Tepoztlán), was built between 1555 and 1580 AD.
This native red circle's use in a Christian building, right next to an anagram of the Virgin Mary, has raised the question: what is an Aztec god of alcohol and drunkenness doing in a 16th-century Christian church?
The excavation was funded by the UNESCO World Heritage List as part of the First Popocatépetl Monasteries project.