A 2,000-year-old altar was unearthed during the ongoing excavations in the ancient city of Alexandria Troas, in a region close to the sea in Çanakkale's Ezine district.
Alexandria Troas, which is located near the village of Dalyan at the exit of the Dardanelles Strait and turned into a port city after becoming a Roman colony, had a strong economy that grew steadily in the 1st to 4th centuries.
The city, whose population reached around 100 thousand in this period, but started to shrink with the weakening of its economy, was largely abandoned at the end of the 9th century.
In the forum, which is located in the center of the ancient city, structures such as the podium hall and temple, the odeon, the bath, and the theater are among the ruins that have reached today.
Ankara University Archeology Department Lecturer and Head of Excavation Professor Erhan Öztepe told Anadolu Agency (AA) that they continue the excavations in the ancient city with the permission and support of the Ministry of Culture and Tourism, the Turkish Historical Society, and the opportunities provided by the main sponsor İÇDAŞ AŞ.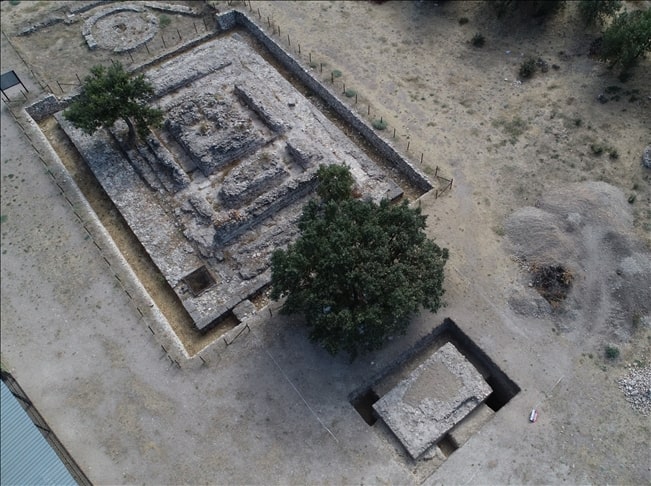 Archaeologists in charge of the excavation continue their work by taking advantage of the possibilities of technology for new finds.
Noting that they carried out studies with the underground x-ray system last year, in the studies supported by Ankara University and Ezine and Geyikli municipalities, Öztepe stated that this year they first evaluated the data that emerged last year.
Explaining that they opened control drillings in the region with the data they obtained, Erhan Öztepe continued as follows:
"One of these control soundings revealed the remains of a building, which may be an altar. We dug and saw that it was the same as the temple. It has the same architectural structure, it shows the same building character. It is a building that should belong to the 1st century AD. We were able to go down to 7 meters. It has a foundation that goes down even further. It is a very deep foundation. It has lost all its covering and architectural ornaments to a large extent. "Unfortunately, the situation encountered throughout the city at one time is valid here as well. It is important that a structure that we can call an altar is in front of the temple."