A piece of a sword was found last year on a farm in Gausel, in Stavanger, on Norway's west coast, this year another metal detector enthusiast found a large sword fragment.
Not only did the two pieces just fit together, but they also turned out to be parts of one of the most magnificently ornamented and heaviest sword types to date from the Viking Age.
The hilt pieces were found in the Gausel area of Stavanger on a field adjacent to the farm where the richly-furnished tomb of a Viking woman was discovered in 1883.
The first piece found was a small irregular piece, and the finder had no idea what it was, so he gave it to the Stavanger Archaeological Museum for further investigation. A year later, a friend of the finder returned to the field and found a large section of an ornately decorated sword hilt. Museum conservators realized this was a match for the little fragment found the year before.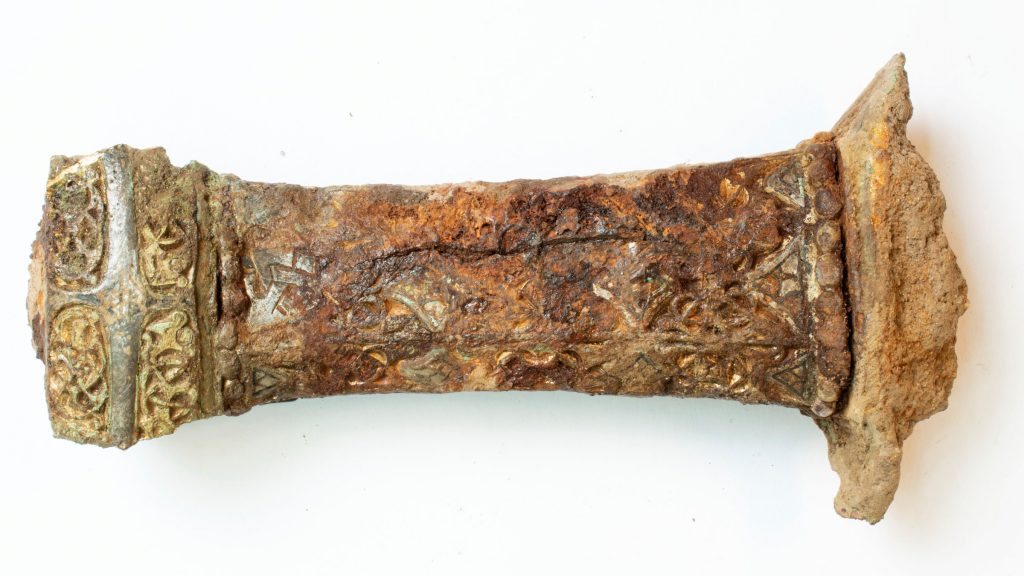 The hilt is from the most ornamented and heaviest Viking sword type, known as a D-sword. Despite the 3000 Viking sword finds, only 20 of these swords, known as the D-sword, have been found in Norway. They were either imported and/or copied meticulously by local smiths. The decorative style dates it to the early 9th century.
According to the press release, details on the hilt are still difficult to see but contain gilded elements of typical animal styles found in the Iron and Viking Ages from about ca 550 to 1050. The hilt also has silver geometrical motifs created using the niello method. This indicates that the black stripes in the silver were created with a metallic combination of some type. The crossguard's ends are shaped like animal heads on both sides.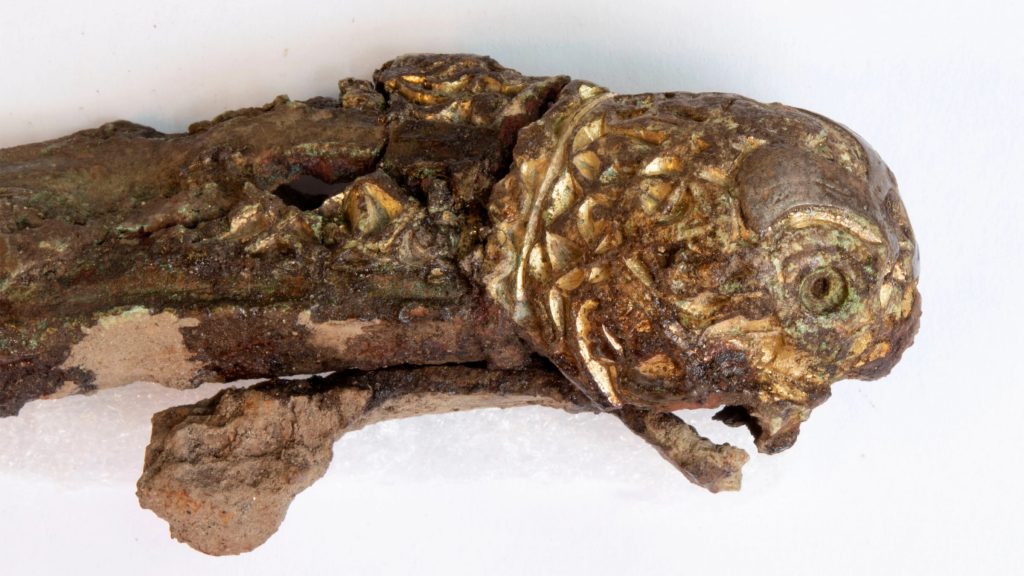 The ornamentation may be indicate that the sword was originally made in the Frankish Empire or in England. The closest known parallel is a sword from the island of Eigg in Scotland, found in a ninth-century tomb.
"The technique is of a very high quality, and both the lavish and complicated decor and the special formation of the crossguard make this a truly unique find," archaeologist Zanette Glørstad from the Museum of Archaeology, University of Stavanger, says in the press release.
The hilt is now undergoing cleaning and conservation before it goes on permanent display at the museum.
Cover Photo: Lise Chantrier Aasen