After heavy rains near the ancient Olympia site, a bronze bull statue of a bull believed to be at least 2500 years old was unearthed in Greece.
The discovery of a small, intact object was made by archaeologists near the temple, the Greek Ministry of Culture said.
It was found near the temple of Zeus and the Altis, the sacred enclosure and core of the sanctuary, the ministry said. "One of its horns was poking out of the ground following recent heavy rainfall."
Archaeologist Zaharoula Leventouri noticed a small horn sticking out of the moist soil near the temple of Zeus during an inspection and stopped to carefully remove the soil from the area.
Archaeologist Zaharoula Leventouri unearthed a small bronze bull and dated this small statuette to the Geometric period of Greece from 1000 BC to 700 BC.
The burn marks on the statuette suggest that it may have been one of the thousands of offerings to the Greek god Zeus.
Archaeologists have discovered dozens of exquisite pottery with unique geometric patterns of the period, but bronze statues of that period are not common because the Greeks later melted many bronze sculptures to reuse this material for hundreds of years.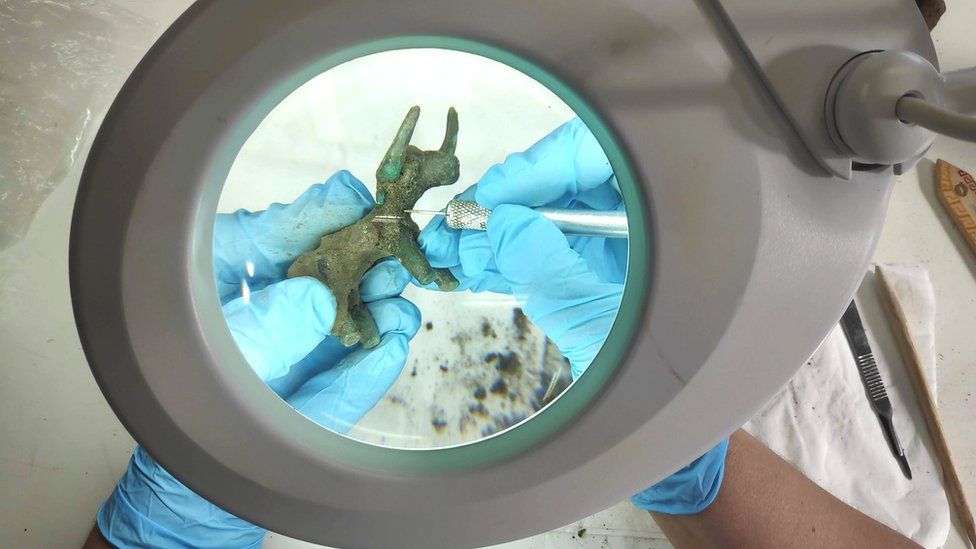 The bronze bull was sent for further investigation by experts from the Greek Ministry of Culture who later determined that it was most likely a gift dedicated to Zeus in his temple at Ancient Olympia.
Like other animal and human figurines, the bull discovered near the temple of Zeus was likely to have been offered by believers during a sacrifice, which would explain the burn marks and "sediments removed during its purification", the ministry added.
The ancient Olympic Games were held in Olympia every four years from 776 BC to at least 393 AD, and the cities and states of Greece put aside conflicts in order to participate.
Located in the Peloponnese, Olympia was an important center not only of religious life in ancient Greece but also of sports.
Cover Photo:  AMNA