The Getty Villa in Malibu, California's arts complex is showcasing superbly-restored gypsum reliefs from the Assyrian Empire's palaces for its special exhibition, "Assyria: Palace Art of Ancient Iraq."
The notion of the empire began to emerge during the beginning of the final millennium before the Common Era, in the ninth century B.C. For the following 200 years, Assyrians claimed territory spanning the Middle East and Central Asia, from the Persian Gulf to the present-day Turkish province of Mersin, comprising a large swath of eastern Anatolia and winding down through the Levant and most of the Nile, which spanned Egypt.
Despite its then-unrivaled military and administrative dominance over such large and diverse areas and peoples, the material culture of its palace artisans survives as the glittering legacy of its strong civilization, with visual themes that appear to be more Babylonian than Hittite.
The Getty Villa exhibition "Assyria: Palace Art of Ancient Iraq" attests to the power of physical might celebrated via a constant stream of conflicts and festivals that predated the classical notions of tragedy and comedy in mimetic works of earthly representation.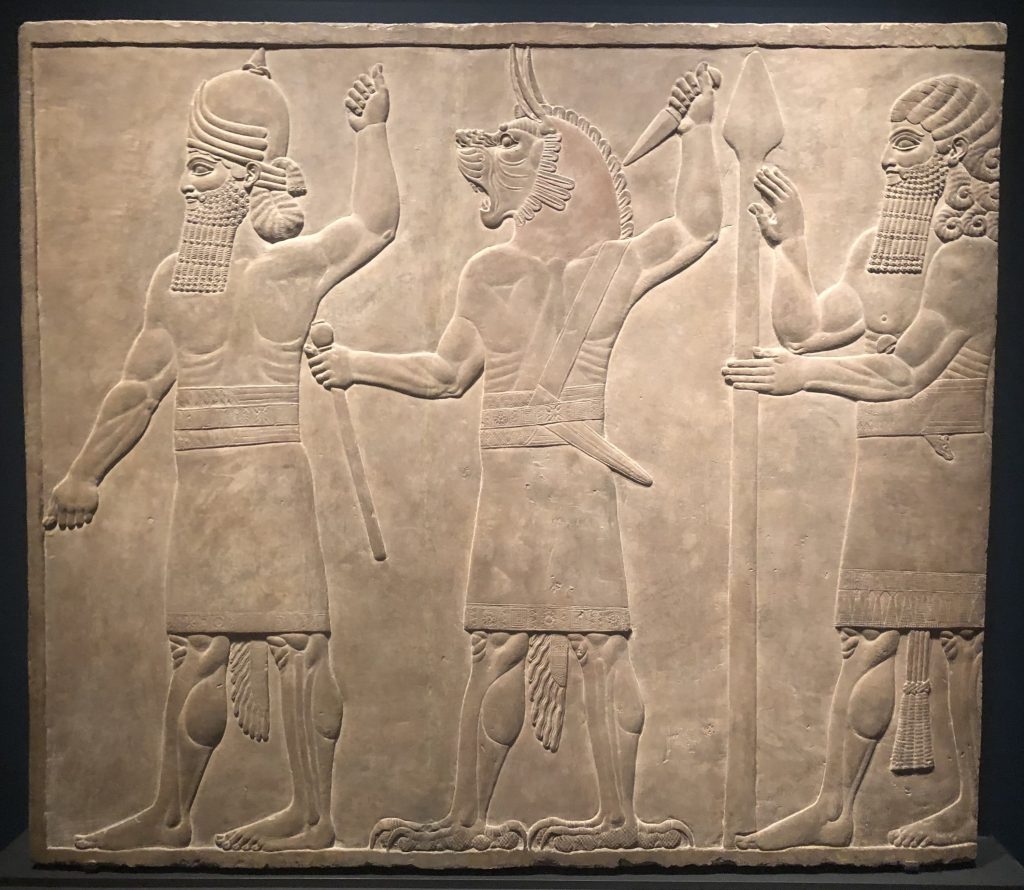 Mostly on loan from the British Museum in London, a special curator of ancient Assyrian sculpture is temporarily exhibited in an opulent Italian mansion complex overlooking the Pacific Ocean. The works date from the ninth to eighth centuries B.C. and are accompanied by a collection of 19th-century expedition drawings by English archaeologist Austen Henry Layard sourced from the Getty Research Institute.
When studying the monuments of Nineveh firsthand between 1849 and 1853, Layard understood how to decipher cuneiform and used his talents as a draughtsman and art historian.
Assyrian kings from the ninth to seventh centuries BC adorned their palaces with masterful relief sculptures that represent a high point of Mesopotamian art, both in terms of artistic quality and sophistication, as well as vivid depictions of warfare, rituals, mythology, hunting, and other aspects of Assyrian court life.
The reliefs in this exhibition are from the palaces of Ashurnasirpal II (883–859 BC) and Tiglath-pileser III (745–727 BC) at Kalhu, Sargon II (722–705 BC) at Dur-Sharrukin, and Ashurbanipal (668–627 BC) at Nineveh. Together, these works, which include some of Assyrian art's classics, give a representative overview of the major topics, styles, and creative achievements of Assyrian art.
The significance of these historic artifacts has grown because ISIS recently destroyed many of the reliefs that survived in Iraq.
The special exhibition can be visited until September 5, 2022.