A carved wooden statue in exceptional condition has been attached to fishing nets off the coast of Texel, one of the Dutch Wadden Islands. On Tuesday, August 1, the crew of the shrimp boat Wieringer 22 caught the sculpture. The crew that named the statue Barry posted it on social media where he garnered an instant following.
Considering that it might have been submerged since the 17th century, their unexpected solid oak haul was astonishingly well preserved.
The head is made of oak, which would normally be vulnerable to shipworm depredations, but the sculpture avoided this fate by embedding itself in the sea floor after the wreck. The sediment kept marine organisms from eating the figurehead and kept it from rotting. That is the only reason it is in such excellent condition.
Acting on advice from archaeologists, the crew placed the head in an eel tub filled with seawater to keep the wood from drying out and deteriorating while the ship was still out shrimping.
According to Michiel Bartels, a municipal archaeologist for that region of the Netherlands, the "very special discovery" came from a warship, possibly during the Eighty Years' War, which lasted from the mid-1500s to the mid-1600s.
Archaeologist Michiel Bartels said the man in the carving wore a special headdress called a Phrygian cap.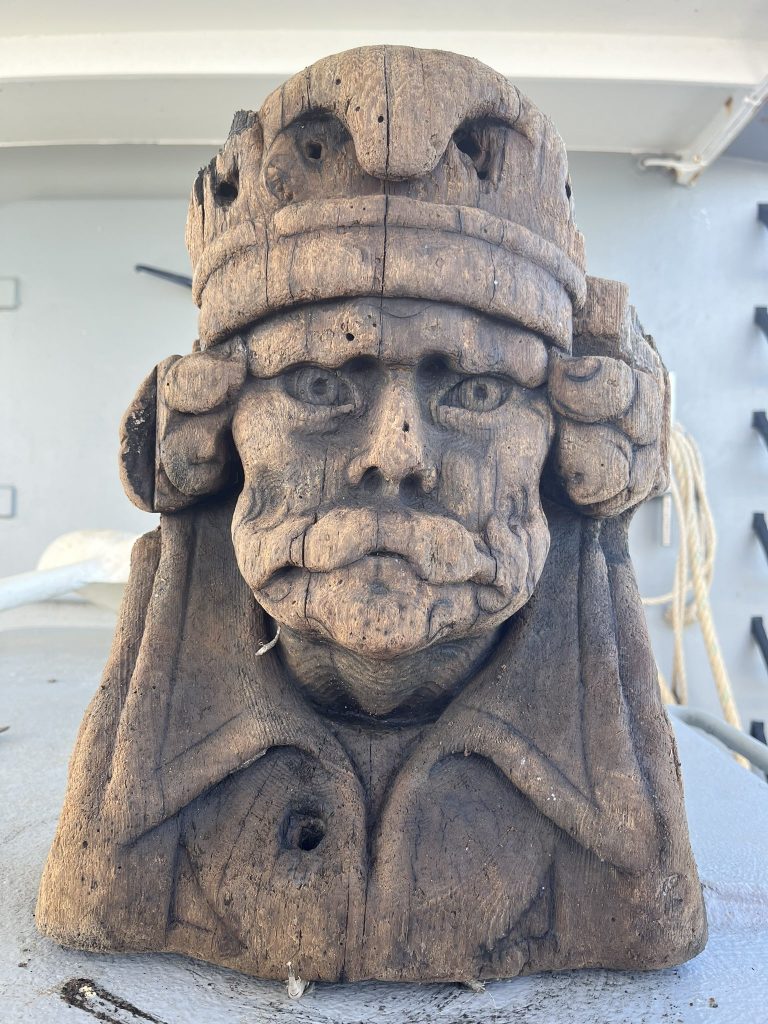 Bartels added, "This hat symbolizes freedom and independence," he said. "The Phyrigians were enslaved by the Romans. Slaves were shaved bald. When released from slavery, [Phyrigians] wore a cap to hide their baldness and signify their freedom."
Bartels, the local archaeologist, thinks that finding Barry could be a sign that someone needs to do a bit more underwater exploration in that area.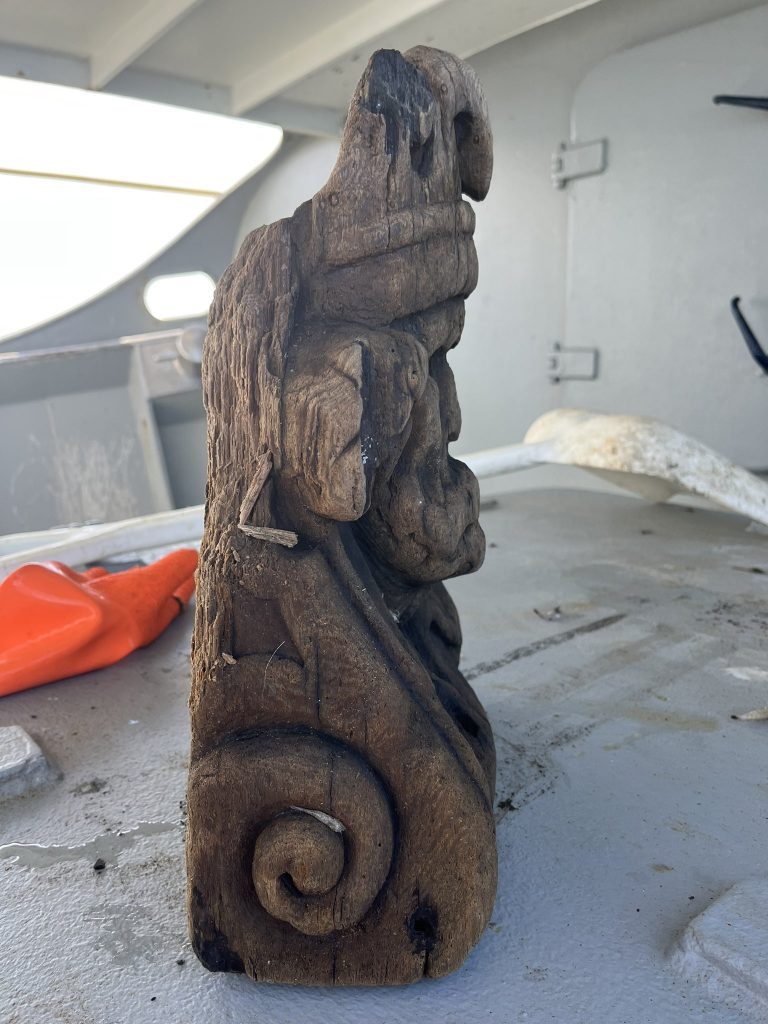 Phrygian cap
In European and colonial cultures, the idea of liberty has long been connected with red Phrygian or "liberty" caps. They became symbols of allegiance to the republican cause after being worn and used as icons during the French and American Revolutions in the late 1700s.
Phrygian caps are soft conical hats with the top curled forward. Although these hats, named after Phrygia, a part of modern Turkey, are associated with many ancient nations, the oldest depiction of the Phrygian cap is from Persepolis in Iran.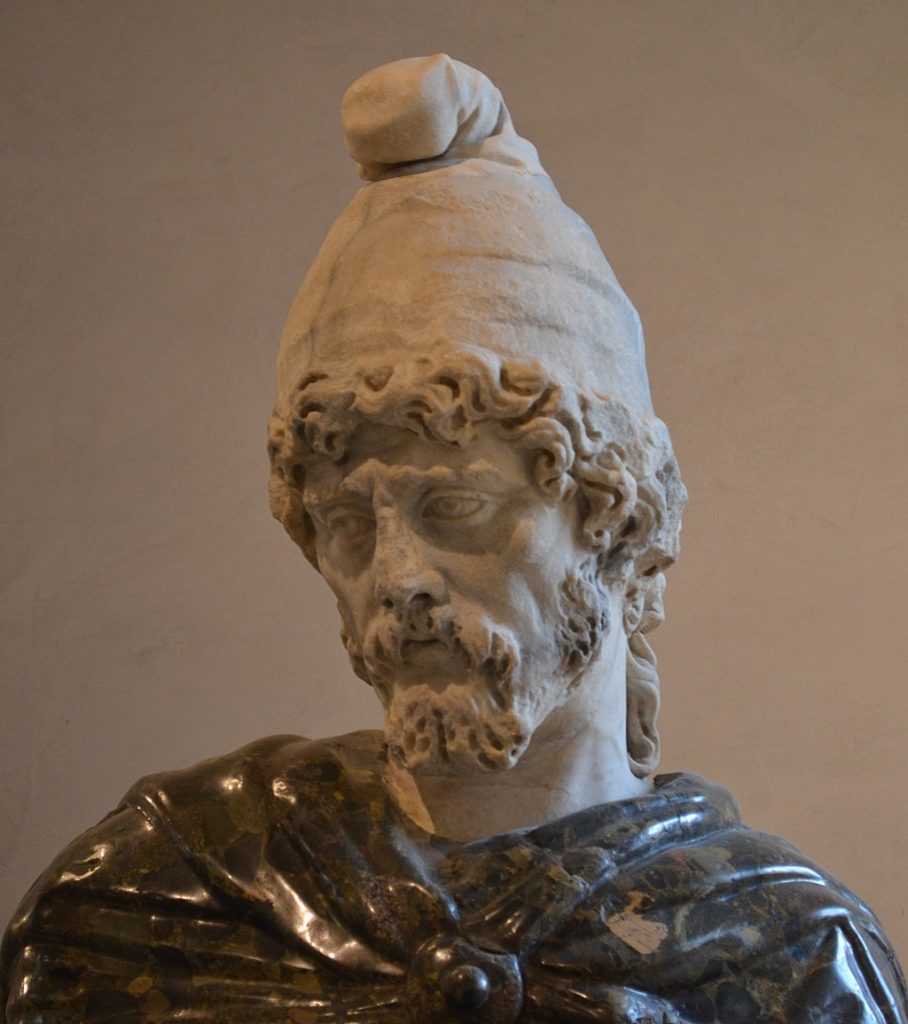 The Phrygian cap was associated in ancient times with various peoples in Eastern Europe and Anatolia, including the Persians, Medes, and Scythians, as well as in the Balkans, Dacia, Thrace, and Anatolia.
In ancient Rome freed slaves wore a similar style of hat, called the pileus, to indicate their liberty. In Europe, it was later assumed that the pileus and the Phrygian cap were one and the same.